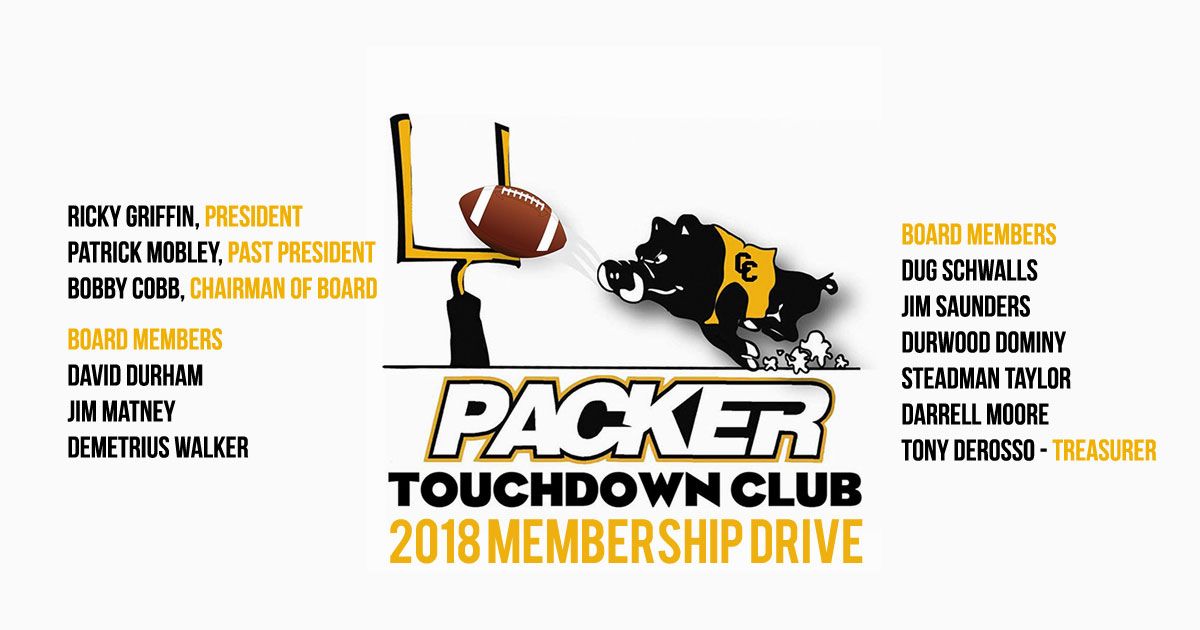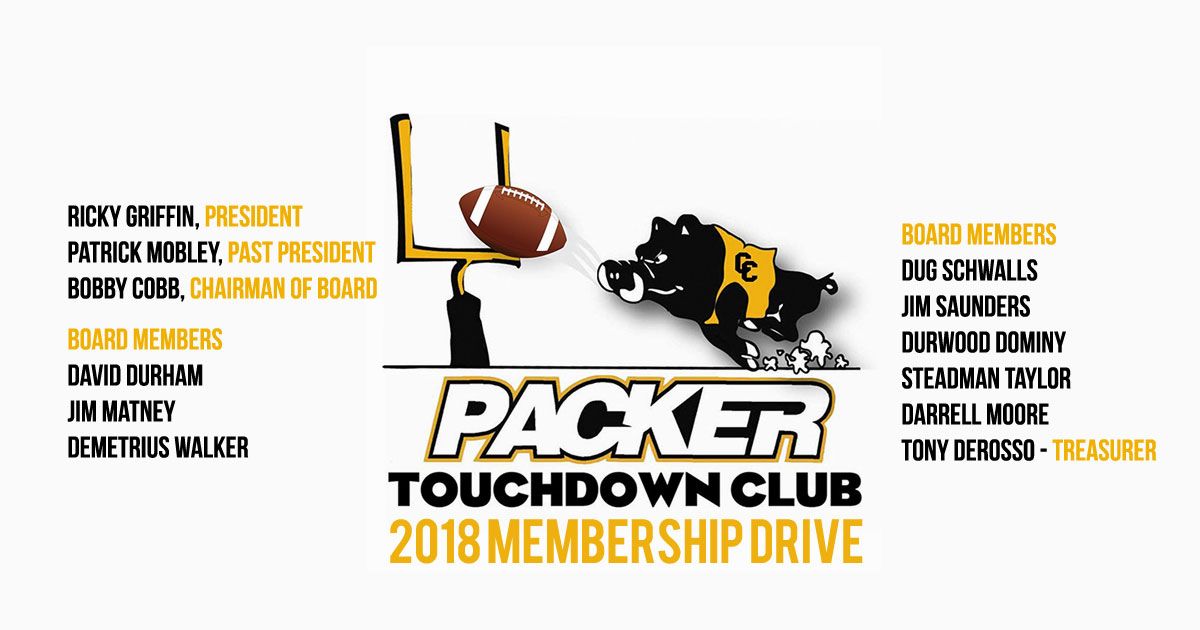 Packer Touchdown Club 2018 Membership Drive Kicks Off
July 11, 2018 – Moultrie, GA
Dear Packer Football Friend,
On behalf of the Packer Touchdown Club, we would like to thank everyone for a very successful 2017 as our Colquitt County Packer football team came within 49 seconds of winning another State Championship, finishing as the State Runner-up. Again, we were able to raise over $200,000.00 and all monies were spent on Packer Football to better the team.
Your membership to the Packer Touchdown Club helps provide too many things to list them all. Here are just a few examples;
Meals for our football team every week of our vigorous schedule and throughout the year.
Sent Students to participate in various football camps in order to earn scholarships.
Paid the 8th payment on the improvements to Mack Tharpe Stadium.
Paid part of the hotel and travel expenses for the team during the season.
Paid part of the expenses for the team to participate in three 7 on 7 events this summer.
High School Football America released its annual Preseason 100 rankings last week and Georgia landed nine programs among the top 100 in the country. Colquitt County came in ranked as the #2 team in the State and #37 in the Nation. Just three states landed more programs in the top 100 — Texas (14), Florida (12) and California (10). The nationally-recognized success of Georgia high school football has continued to grow, and Colquitt County Packer Football is recognized and respected across the Nation.
As you can see, all the hard work the kids and coaches are putting in is paying off. Because of this kind of commitment, we need a Touchdown Club to help Packer Football be the best it can be, to show the kids that the community supports all their hard work and success and to show the coaches we support all the long hours they put in.
Our membership drive will begin with this letter and end on Thursday, August 16th. We will have our Meet the Pack banquet at 6:00 pm at the new high school cafeteria that night. Gay's Seafood will do the catering.
Our membership levels are included on page two of the 2018 Touchdown Club Membership Packet. TD Club Associate and Partner members will park in the South end parking lot. All other members will park in the North parking lot. Parking passes have changed colors this year for both parking lots. Parking passes and shirts can be picked up at the Meet the Pack banquet or from me at Robert Hutson Paint & Body.
The CCHS Cheerleaders will be publishing the media guide and weekly programs.
Thank you for all your support. Everyone associated with Packer Football thanks you. Please complete the membership form you received via mail and mail it to Packer Touchdown Club, PO Box 2813, Moultrie, GA 31776. If you are viewing this online and did not receive this letter via mail you may download and/or print out the complete 2018 Touchdown Club Membership Packet here: 2018 Touchdown Club Membership Packet
Print the packet out, complete the information card and enclose it with your membership payment to show us how you would like your name listed in the program. Make checks payable to: Packer TD Club and mail to Packer Touchdown Club, PO Box 2813, Moultrie, GA 31776. Feel free to contact me, Ricky Griffin at (229) 456-1180 if you have any questions. Again, Thank you for your support of Packer Football.
Sincerely,



Ricky Griffin
President
Packer Touchdown Club